Lee Culp, CDT Recognized for Contribution to Dentistry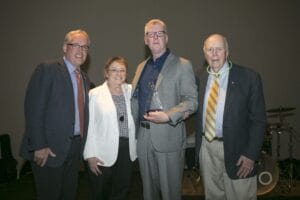 On March 12, 2016, The Dawson Academy® presented the Distinguished Service Award to Mr. Lee Culp, CDT, CEO of Sculpture Studios, a dental laboratory, education, and research and product development center for new and innovative digital dental technologies and their applications to diagnostic, restorative and surgical dentistry.
The Distinguished Service Award recognizes individuals for their contributions to the dental profession through research, publication and education. Previous recipients include: Dr. Henry Gremillion, Dr. Bill Arnett, Dr. John Svirsky and Dr. Frank Cordray.
In presenting the award, Dr. Peter Dawson, Founder of The Dawson Academy®, said, "There is no one else in dentistry today who has contributed as much to the development of materials, products, techniques and digital dentistry as Lee. I am honored to present this award to him in recognition of his outstanding contributions and for his excellence as a teacher of dentists and laboratory technicians".
"Early in my career, over 30 years ago, I was a student in Dr. Dawson's class on occlusion and the TMJ. He gave me a more complete understanding of dentistry involving muscles, occlusion and esthetics. I have studied with him throughout my career – what I learned from him is the backbone of everything I do in dentistry," shared Culp.
Culp is a leading resource and inventor of many of the materials, products and techniques used in dentistry today and holds numerous patents for his ideas and products. Lee's extensive writing, photography and teaching ability have brought him international recognition resulting in him being one of today's most sought after lecturers.
"We are thrilled to recognize Lee for his countless contributions to dentistry and his willingness to share his knowledge through his writing and teaching," remaarked Joan Forrest, President and CEO of The Dawson Academy®. "Having Lee Culp and Pete Dawson on the stage together was a momentous experience for The Dawson Academy®."
About The Dawson Academy
The Dawson Academy is an international provider of science-based dental continuing education, teaching dentists to comprehensively diagnose and treat dental problems with excellence and integrity. The Academy has taught dental courses to the dental industry for over 35 years and is dedicated to teaching the principles and skills necessary for the successful practice of complete, quality, and predictable dentistry. The Dawson Academy's goal is "to make good dentists even better".
Contact
Virginia Bussey
Director of Marketing & Communications
The Dawson Academy
727-823-7047
vbussey@thedawsonacademy.com
###
https://thedawsonacademy.com/wp-content/uploads/2016/10/AM0A1049-cropped-1-1.jpg
2833
3541
The Dawson Academy
https://thedawsonacademy.com/wp-content/uploads/2013/04/dawson_acad_centered_logo_homepage.png
The Dawson Academy
2016-10-25 16:18:16
2016-10-27 14:33:45
Wilkerson Inducted as President of AAOSH
https://thedawsonacademy.com/wp-content/uploads/2016/04/Retreat-16-Award-5.jpg
1920
2880
The Dawson Academy
https://thedawsonacademy.com/wp-content/uploads/2013/04/dawson_acad_centered_logo_homepage.png
The Dawson Academy
2016-06-17 11:26:04
2018-09-25 15:06:43
Lee Culp, CDT Recognized for Contribution to Dentistry
https://thedawsonacademy.com/wp-content/uploads/2016/04/Retreat-16-Award-4.jpg
1920
2880
The Dawson Academy
https://thedawsonacademy.com/wp-content/uploads/2013/04/dawson_acad_centered_logo_homepage.png
The Dawson Academy
2016-04-01 10:02:05
2017-12-28 11:31:08
Dental Professionals Recognized for Contributionand Passion