Following Dawson Protocols, surgical protocols and diagnostic protocols, everything in our laboratory is designed and created digitally. A major benefit to doing this is patient engagement, speed, efficiency and precision. Perhaps the biggest advantage to moving to a digital process is precision 3D communication, using complete digital records.
Mistakes are minimized and efficiency is increased.
Since it is in a digital world, it's a lot cleaner and things can be done faster. If you're trying to do diagnosis and treatment plan and you're still strictly in the analog world, you can make irreversible mistakes at almost any phase of the planning process. If you cut something off on a stone model, it's gone, now you have to restart. In the virtual world, if we cut something off a virtual model and we don't like it, then we just put it back on. If we're doing additive or subtractive, using the Dawson protocols we have in place, we can test and try new procedures. We can move things around, without duplicating our models and we can add or subtract teeth.
You have endless chances to test and try on your models and patients.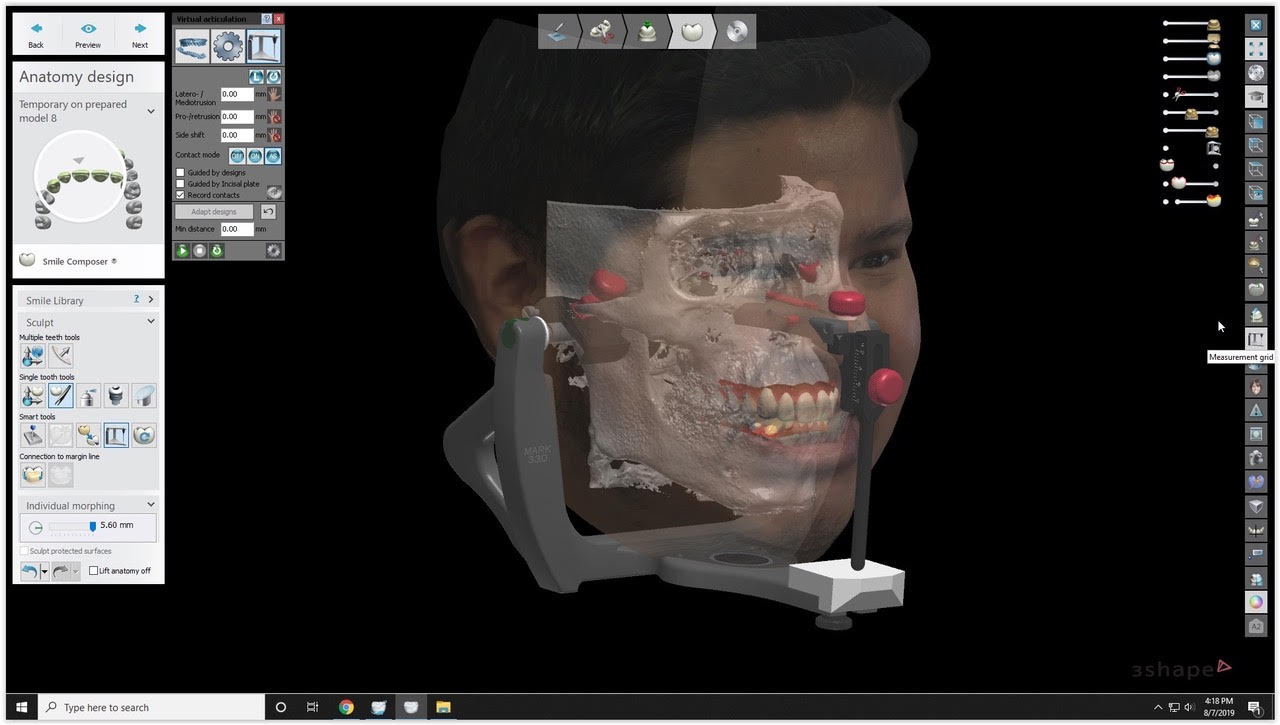 Efficiency is increased simply because we are able to change on the fly and go, "Okay, I really didn't want to do that," everything is immediately back to the beginning, and we can try something else. If the doctor is learning how to do this, the ability to try out different thought processes on one set of models and move and try things, will end up getting them the optimal result. Then they can go into an output situation and start communicating with other members of the team on these same protocols.
Communicating with the doctor, using the virtual patient.
Communication between the Dental Laboratory and Clinical Team becomes so much more efficient with 3D communication. As our laboratory specializes in comprehensive surgery planning and restorative treatment for implant placement. We are the ones receiving all data files, and we combine those pieces together to create 3D Virtual Patient (3DVP), so our lab acts more like a repository for data at this point.
Once our 3DVP is created, we will schedule a video meeting with the clinical team where we review the treatment options. Then we can prepare simulations using restorative, Orthodontic, Periodontic and Surgical options based on doctor's recommendations. We put everything together to the best of our knowledge, and then let all clinical specialists modify and verify what they need to. We're doing everything together as a team, and we can reflect any changes that the team wants on a virtual patient in real time. We literally have the patient in front of us now, no call to the patient that they have to come back in because we missed something.
From the general dentist, periodontist, the orthodontist, and surgical team. All the data comes into the laboratory and we create a virtual patient and then work with each individual specialist or the team to get the final result. You can't do that in the analog world.
Learn how to create and utilize the Virtual Patient within a Complete Care Practice in

this two day hands-on workshop

.
https://thedawsonacademy.com/wp-content/uploads/2023/02/The-Dawson-Academy-Logo.svg
0
0
dnorthcutt
https://thedawsonacademy.com/wp-content/uploads/2023/02/The-Dawson-Academy-Logo.svg
dnorthcutt
2023-03-01 20:37:01
2023-03-01 20:37:01
How the digital lab is changing dentistry