Course Description
Despite the tremendous advances in implant dentistry, we still see too many prostheses that are uncleansable, not functionally stable, or esthetically displeasing because implants weren't placed in the proper position. Determining where the teeth need to be from a functional, phonetic and esthetic standpoint PRIOR to implant placement is the key to long-term success.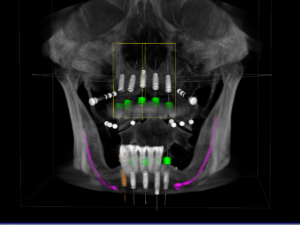 In this class you will be working through thru two cases start-to-finish. Printed mandibles and maxillas of the actual patient and all of the diagnostic data will be provided. You will go through the process of treatment planning the case 3-dimensionally, relating the desired tooth position to the CBCT. You will also:
Determine the virtual placement of the implants
Design the guides and milled provisional
Place the implants into the printed models (simulating guided surgery)
Place the multilevel abutments and immediately load the provisional
Each step of the process will be illustrated by recordings of the surgery and prosthodontic procedures at each stage.
You will see how easy it is to develop bone reduction guides, surgical guides for guided implant surgery, and even guides to facilitate the proper position of the immediate load provisionals.
You will not need to be a software expert or spend thousands of dollars on hardware. You simply need to do what we have trained you to do and have access to a CBCT scan for the patient. We will show you the rest.
Special emphasis will be placed on communication between the restorative dentist, the lab, and the implant surgeon.
Whether you are new to full arch dentistry on implants or you have done a number of cases, the information learned in this course will allow you to do some of the most rewarding cases in all of dentistry at the highest level.
Course Size: 20
Learning Objectives
Recognize when the immediate load "all on four protocol" is a viable treatment option and when it is not
Practice using state of the art planning services that guide you through the planning of implant placement, the design of all the surgical guides to insure precise implant placement, and the fabrication of custom milled provisional restorations
Determine when to consider a traditional implant supported full arch bridge design in order to preserve the patient's bone vs. the more contemporary All-On-Four protocol
Evaluate the existing dentition/dentures for proper tooth position to know if they can be used or to determine precisely what will need to be changed
Review the fundamentals of speech and mandibular movement in skeletal class 1,2,3 patients, and how this pertains to the determination of precise tooth position
Define occlusal design principles for specific implant prostheses
Distinguish the best choice of restorative materials for specific implant prostheses
Discover how to sequence treatment and determine fees for even the most complicated full arch implant cases
Day 1
8:00am – 8:45am: Welcome & Introductions
8:45am – 10:15am: Esthetic & Occlusal Design – How implants are different then teeth  
10:15am – 10:30am: Break
10:30am – 12:30pm: Removable Prosthodontic Techniques
12:30pm – 1:30pm: Lunch
1:30pm – 2:00pm: Surgical Guides – Getting the Implants Where They Need to Be
2:00pm – 6:00pm: Case 1 – Upper Denture and Lower Fixed Hybrid Restoration 
6:00pm – 9:00pm: Reception/Cocktail Party (Review & Treatment Plan Student's Cases)
Day 2
8:30am – 10:15am: Case 1 Continued
10:15am – 10:30am: Break
10:30am – 12:30pm: Case 2 – Upper & Lower Immediate Load
12:30pm – 1:30pm: Lunch
1:30pm – 4:00pm: Case 2 Continued
4:00pm – 5:00pm: Maintenance & Marketing
July 18, 2019 - July 19, 2019

Chesapeake, VA (Mid Atlantic Center for Advanced Dental Studies))

View Schedule
Class Hours: Day 1 and 2 – 8:00 a.m. to 5:00 p.m.
Location: See our calendar for specific locations.
Tuition: $4,600
CE Credits: 14
Recommended Prerequisite: Functional Occlusion – From TMJ to Smile Design
Target Audience: Dentists, Specialists, Lab Technicians
Hear What Other Dentists Have Said About This Course
"This was a great way to really understand the process of replacing teeth with a full arch prosthesis.  Step by step: from planning the case, the tooth setup, occlusion considerations and then the actual surgery day conversion of the denture to implants. I have a much better understanding of this process and I don't feel like I'm along for the ride with my lab/surgeon calling all the shots"
"Although we are proud of how far modern dentistry has come. I love the Dawson Academy's 'back to basics' reminders to achieve functional, predictable, esthetic dentistry. Implant dentistry has come so far but we need to remember the importance of treatment planning with the end result in mind".
"If you want to be able to speak confidently to your patience about the process of  Full arch dentistry on implants this is the course to attend".
Cancellation Policy:
Requests to cancel or transfer registration in a Dawson Academy course, lecture, or event will be accommodated until 60 DAYS PRIOR to start date. Upon request a refund will be provided minus a $100.00 non-refundable deposit, or a one-time course, lecture, or event transfer, which remains valid for 12 months. Less than 60 days prior to course, no refunds or transfers will be issued.
*Students who finance tuition through the Lending Club financing program are subject to special terms and conditions.
Please contact The Dawson Academy at 1.800.952.2178 for full details.

The Dawson Academy is an ADA CERP Recognized Provider. ADA CERP is a service of the American Dental Association to assist dental professionals in identifying quality providers of continuing dental education. ADA CERP does not approve or endorse individual courses or instructors, nor does it imply acceptance of credit hours by boards of dentistry. The Dawson Academy designates this activity for 14 credit hours continuing education credits.