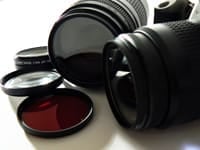 By: Dr. Neeraj Khanna
The importance of photography in dentistry cannot be underestimated. It has many purposes, like internal & external marketing or communication with specialists and laboratories. Its greatest importance, though, is to accurately diagnose conditions.
Treatment Planning
Treatment planning starts with a complete examination and complete diagnosis.  Diagnostic records should be taken as part of a complete examination. This includes:
Perfect upper and lower impressions
Facebow transfer
Centric bite record
Digital photos
One component in the practice of complete dentistry is to predictably restore the upper and lower anterior teeth to ideal function and esthetics.  In order to restore anterior teeth to proper function and esthetics, the incisal edge position must first be determined.
Digital photography allows for accurate determination of the incisal edge position, both horizontally and vertically. This process is part of the 16 step (2-D) functional esthetic checklist.  Photos used in this checklist also provides the following information:
Facial-skeletal esthetic concerns
Diagnosis of a gummy smile (if present)
Lip closure path
Emergence profile of upper anterior teeth
Plane of occlusion
Texture of existing anterior teeth
Pre-existing shade
Smile evaluation
Soft tissue (gingival architecture) assessment
The Importance of Digital Photography in Dentistry
Photos are an especially important step in the practice of complete dentistry. This method of practice leads the dentist to predictable outcomes for his or her patients. The use of digital photos provides valuable information to be used in the 2-D treatment plan checklist, which helps ensure predictability and functionality. This process cannot be completed without the correct photos.
Once the information gained from the digital photography is transferred to the working models, the final outcome becomes clear and you can relay this information to your patient with confidence. Taking digital photos will allow you to diagnose more effectively, and in turn increase your confidence.  And as Dr. Dawson has explained for decades, success in treatment acceptance is based on the confidence of the treating Dentist.
https://thedawsonacademy.com/wp-content/uploads/2023/03/dental_photography.jpg
150
200
dnorthcutt
https://thedawsonacademy.com/wp-content/uploads/2023/02/The-Dawson-Academy-Logo.svg
dnorthcutt
2023-03-01 21:28:03
2023-05-01 01:23:52
Why Dental Photography is Important to an Accurate Diagnosis