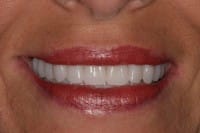 by Kimberley D. Daxon, DDS
The desire for aesthetics in our society has initiated the development of dental materials that provide the strength for function and the appearance of natural teeth.  The completely edentulous patient is not immune to these desires, however, conventional denture teeth have been secondary in beauty and strength compared to today's porcelains for natural teeth.
One of the biggest advances in Removable Prosthodontics has been Ivoclar's  fabrication of the Phonares Nanohybrid Composite (NHC) teeth.   Natural teeth consist of 3 layers.  Those layers contribute to strength and esthetics.  The Phonares teeth are manufactured using a special layering technique that results in a tooth that closely mimics nature.   The refraction and reflection of light is designed to be that of natural teeth.  Specifically, the NHC teeth consist of nanoparticles less than 50 microns in size, and hybrid particles of different types and sizes of fillers.  These particles consist of organic fillers for strength and color stability,  inorganic fillers for wear resistance, and silica based fillers for translucency, resulting in optimum aesthetics and increased wear resistance.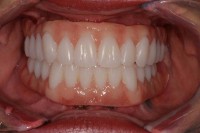 Centric relation and lingualized occlusion are critical  in complete denture fabrication.  The Phonares line offers the Lingual NHC posterior tooth which allows for ideal distribution of forces due to lingualized contact points.  This occlusal scheme results in increased denture retention and stability when in harmony with the seated joint position.  The NHC posterior teeth have a hardness factor close to that of EMAX porcelain.  Using a denture tooth that has increased wear resistance is important for the preservation of the alveolar ridges and maintaining  vertical dimension of occlusion.  This advancement in technology also gives patients increased longevity of the denture when restoring against an opposing arch of natural teeth or porcelain crowns.
The edentulous population will increase for at least the next 20 years, along with the demand for removable prosthodontic care.  We can improve the quality of life for this growing population through removable prosthodontics, continuing education, excellent laboratory support and advancing technology.
https://thedawsonacademy.com/wp-content/uploads/2023/03/c56-200x133-1.jpg
133
200
dnorthcutt
https://thedawsonacademy.com/wp-content/uploads/2023/02/The-Dawson-Academy-Logo.svg
dnorthcutt
2023-03-01 21:32:46
2023-03-01 21:32:46
Advances in Removable Prosthodontics